Shopping Cart
Your Cart is Empty
There was an error with PayPal
Click here to try again
Thank you for your business!
You should be receiving an order confirmation from Paypal shortly.
Exit Shopping Cart
Hunt for former Texas Tech Professor's killer continues, they took his Curtis Mathes TV. This was a Curtis Mathes console style television. It would have taken at least two people to carry the television out!
DETECTIVE REMAINS hopeful that crime will be solved.
Police are still searching for the person who broke into an 80-year-old man's home back in 1996 to repeatedly stab him, the department has continues its hunt for the person who murdered the elderly, former Texas Tech professor in his home so many years ago. Haskell G. Taylor, 83, was found beaten and strangled to death in his residence Oct. 29, 1996. Someone had apparently broken into the house where Taylor lived by himself at 3421 54th Street.
His home was ransacked. A large Curtis Mathes Console Television, a Magnavox VCR, a brass mantle clock and a World War I multicolored beer stein were stolen. But a silver tea service was left behind. There was no sign of forced entry. The medical examiner ruled the case of death as blunt-force trauma to the head.
The veteran of World War II and Korea saw his two children every few months when they'd return to Lubbock from their Houston homes. His daughter-in-law is believed to be the last person to hear from Taylor before he was found by police. She called him the night before he died to make sure her family would have a ride from the airport the following day.
Detective Rene Martinez is the third homicide investigator to take on the case. The first detective was killed in a car accident in 1998, and the second detective now works patrol. Martinez remembers the day Taylor's body was found. He'd called in sick that day, but drove by the patrol car-flanked home after he picked his daughter up from school.
"That makes it difficult because most of the reports are summaries of the officer's observations," he said. "It's hard to figure out why certain information was important to that investigator." Nevertheless, Martinez works on the cases when he finds a rare lull in current cases. He plans to have the department's identification team or the Department of Public Safety crime lab review evidence still in the police property room in hopes of finding leads with new crime-fighting technology. Martinez said he believes the killer likely is an acquaintance outside Taylor's closest circle of family and friends. Taylor had retired from Tech in 1978.
"I think there's a group of people who maybe worked (small jobs) for him or had some kind of relationship with him that his family didn't know about," Martinez said. "In my opinion, that's where the suspect probably came from."
Most elderly people who live in middle-class neighborhoods don't know their neighbors, he said, so there was no one with detailed information about Taylor's personal life or day-to-day encounters. More than 50 people were interviewed and ruled out as suspects soon after the murder. Despite the age of the case, Martinez remains convinced Taylor's killer will one day face justice.
"There's so few crimes that can really be said to be a perfect crime," he said. "A lot of the time people have information and make the assumption that police know and they don't call in." That's why he says he hopes someone will come forward with a tip that would breathe new life into the investigation.
Haskell Taylor was known to most in the Texas Tech Accounting Department as Mr. Texas Tech. He founded the Tech Accounting Society, has several endowments in his name and worked at the university for more than 50 years.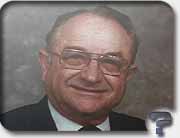 Sgt. Gomez says the most telling piece of evidence stolen from Taylor's home that morning was a Curtis Mathes console style television. Gomez says at least two people would have had to carry the television out, which means there is a good possibility there are at least two suspects. The police have the serial number of that television and could match it. If you have any information about this case, call Crime Line at (806) 741-1000.
A reward offered in the case began at $1,000 from Crime Line and grew as friends, family members and anonymous donors contributed to the fund. It now stands at near $6,250.Anyone with information about Haskell or the case should call Martinez at 775-2402.
[email protected] 766-8707
Categories: None
/